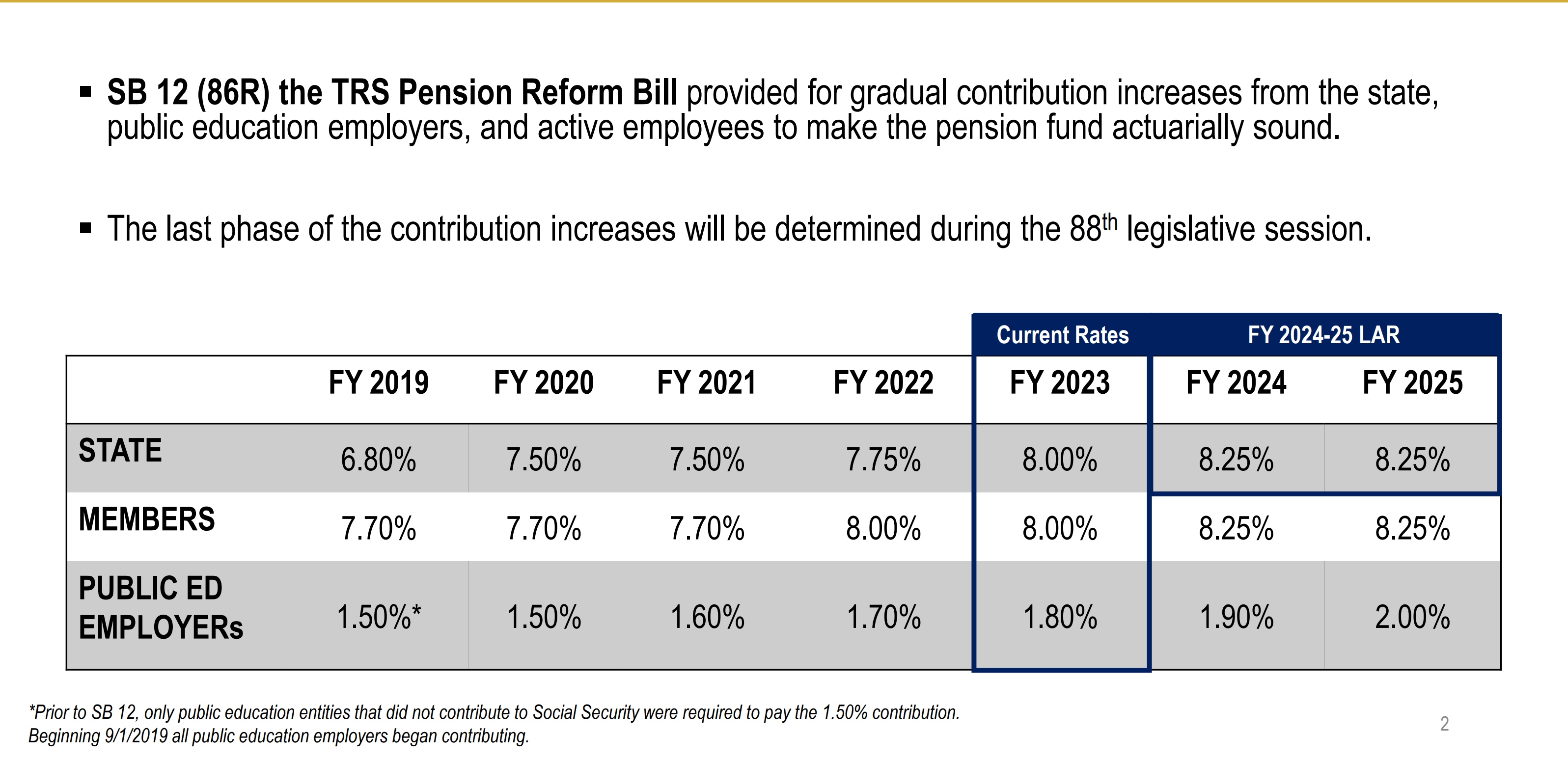 Texas AFT: House Appropriations Committee Discusses TRS Pension Fund, TRS-Care, and TRS-ActiveCare
Last Thursday, the House Appropriations Committee discussed a number of issues affecting educators and retirees in Texas. The committee heard testimony from Brian Guthrie, executive director of the Teacher Retirement System of Texas (TRS), who discussed the TRS pension fund, TRS-ActiveCare, and TRS-Care.
Guthrie testified that, thanks to increased contributions to the TRS pension fund, the fund is in good shape, despite TRS's recent decision to establish a more conservative investment return assumption. For the 2022-23 school year, state and member dues have been increased to 8% of total employee compensation this year, and employer dues have been increased to 1.8%. Under a bill passed in 2019, TRS state, member, and employer dues have increased year-over-year since the 2019-2020 school year and will continue to do so through school year 2024-2025.
When discussing the TRS pension fund, Guthrie specifically focused his comments on the possibility of a cost of living adjustment (COLA) or another 13th check for TRS retirees. Guthrie testified that the most fiscally prudent method of funding a COLA or 13th Check would be direct state investment. A COLA or 13th check could be funded by using existing TRS funds or by increasing system contribution rates. Guthrie noted, however, that using existing funds would weaken the fund as a whole, and contribution rates have already increased. TRS estimated that it would take an upfront cost to the state of $3.6 billion to fund a 6% cost-of-living adjustment for TRS members who retired before September 2019.
Representative Giovanni Capriglione, whose COLA bill passed the committee last year, suggested that TRS retirees need a permanent COLA, not just another 13th check. Capriglione said, "Over time, a month's payment we made two years ago is worth less in today's dollars if they got it today, so I just wanted to make the comment that a one-time payment, in a way, means less and less every year.
TRS testified that TRS-ActiveCare premiums have not increased due to special state appropriations, but the agency projects a massive 17% increase in premiums for the 2024-2025 plan year without government action. 'State. A total of $638 million in federal stimulus dollars was earmarked for TRS-ActiveCare this year and last year, but these were one-time payments to the system that were used to keep TRS-ActiveCare premiums constant. TRS-ActiveCare is funded through the school funding formula, not through TRS funds.
TRS-Care is paid as a percentage of employee payroll and is a separate fund from Pension or ActiveCare. TRS testified that the TRS-Care fund is healthy and there will be no premium increases for plan year 2023.