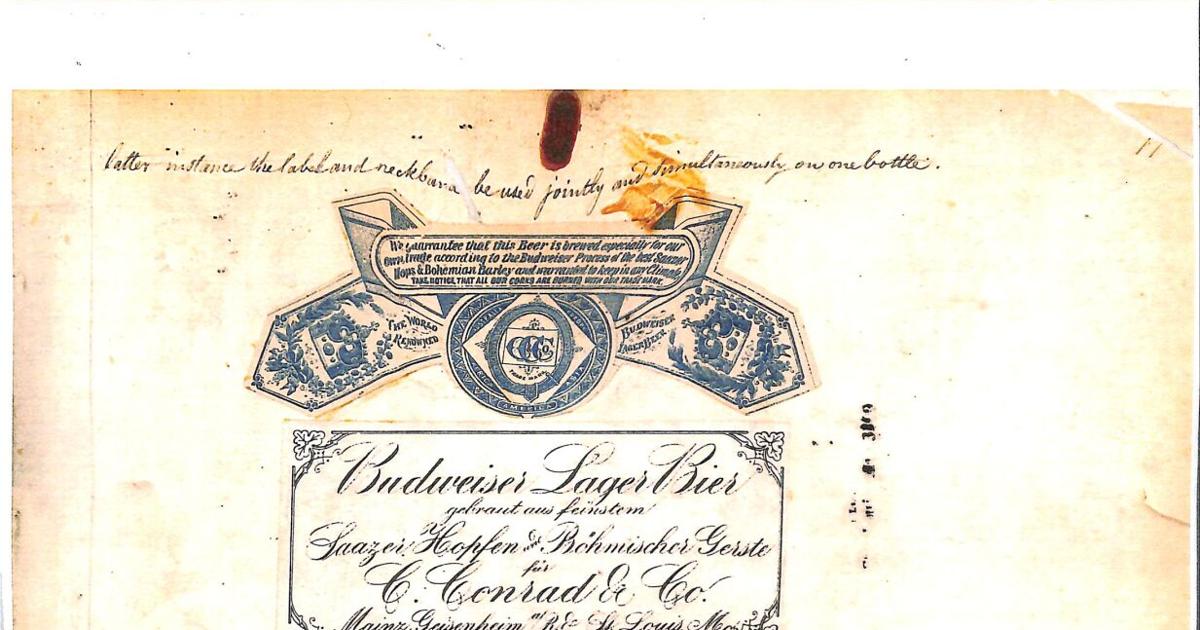 Discovering the original 1878 Budweiser beer trademark and label | Company
City Hall, Room 129
1200 Market Street
St. Louis, Missouri 63103
Communications Specialist, City of St. Louis Recorder of Deeds
Discovering the brand and label design of the original 1878 Budweiser beer
St. Louis, Missouri – Budweiser's original 1878 brand, the "King of Beers," was discovered this morning in the City of St. Louis Recorder of Deeds by its records department. The well-preserved 143-year-old document includes the very first Budweiser label design.
The history of the iconic Budweiser beer brewed by Anheuser-Busch begins with Adolphus Busch's friend, Carl Conrad. While researching new beers in Europe, Conrad discovered a new lager in what is now the Czech Republic. Back in St. Louis, he named his new beer Budweiser after the town where he found this new recipe and started a new company, Carl Conrad & Co. Conrad then turned to Anheuser-Busch for the brew and bottle it. In 1878, Conrad filed a trademark for its beer with the St. Louis Recorder of Deeds office, which has retained this iconic label. Eventually Conrad's company declared bankruptcy and Anheuser-Busch bought the rights to Budweiser and, out of respect for their friend, kept the name on the beer label for several decades.
"Today, the label of one of the world's best-selling beers still contains most of the brand elements preserved in the Recorder of Deed archives," says Christian Naffiger, researcher at the archives. The document, written in English, references its list of ingredients in German. "Today the German language has given way to English, but Budweiser still mentions the ingredients. In 1878, the two main components were Saaz hops and Bohemian barley, today marketed as "the finest hops, ice and barley malt".
Christian Naffiger is available for interviews, and members of the press are invited to visit the Recorder Archives Department, located in Room 129 of St. Louis City Hall, 1200 Market Street, St. Louis, MO 63103, for interviews or to collect B-Rollers. A digital scan of the document is attached and may be shared with the Courtesy of the "City of St. Louis Recorder of Deeds – Office of Michael Butler". The Recorder of Deeds Archives Service is open to the public Monday through Friday, 8:00 a.m. to 5:00 p.m. To schedule an interview or access the Budweiser document, please contact Mark St. George, MS, at [email protected]